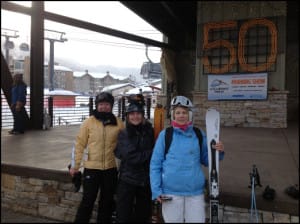 One of the largest business anniversary celebrations we've seen occurred this year at Steamboat, also known as Ski Town USA and the home of Champagne Powder. Although yours truly didn't make the January 12 to 21 celebration dates, my ski buddies from the Greater Grand Rapids Ski Club and I made it to the after party last week as shown in the photo.
We also got to chat with the nice folks at Steamboat Today, who put on a very informative morning show on TV 18, shown in the other photo.
Promotions Galore
This post would be miles long if it listed all of Steamboat's promotions for their big celebration, so here is a shortened summary:
An ESB beer brewed by Anheuser-Busch and labeled with a custom Steamboat 50th Anniversary tap at participating bars. Note: we did not see this at their outdoor "ice bar," but the bar was sure cool.
A new cocktail called "Golden Antler" made with Barenjager Honey Bourbon, peach schnapps, orange juice, and ginger ale. I don't remember anything after trying this!
Their official celebration (which we missed)

Live music from the Yampa Valley Boys
50th Anniversary merchandise tent
A time capsule opening from their from their 25th anniversary
Several Bud Light free concerts featuring area bands
A Texas sized birthday cake: 3 layers, 700 lbs, 30" deep by 80" long by 3' tall – use your imagination!!
Lighting of the 50th Anniversary Cauldron
Torchlight Parade (Vogue, See Me, Lower Valley View runs)
Fireworks synched to music – the largest display in resorts history
Prizes hidden in gondola cars
39th Annual cowboy downhill

Many, many prizes, including

Steamboat ski vacation for 4
Heli ski trip for 2
4 monthly prizes: Rossignol skis and bindings, Burton Snowboard, Steamboat summer vacation for 2, Rossignol skis and bindings
50 days and 50 daily prizes including lift tickets, ski and cowboy apparel, sleigh ride dinners, and massages

On site improvements

new Bison Groomer
expanded and upgraded snow making capabilities
new 4-stroke energy efficient snowmobiles
foot rests and restraining bars on Morrningside chairlift (thank you, thank you!)
new chairs with foot rests for the 4 Points chairlift
ski rental inventory revamp
facility enhancements at the Steamboat Grand, Thunderhead, and Rendezvouz
Steamboat's History
Steamboat was founded by Jim Temple and John Fetcher, local ranchers with a love of skiing. The town reflects this today, with its shops touting both ski and ranch sundries, apparel and supplies.
Scouting began in 1955, when Temple enlisted some of his best skiers to determine the best routes down the mountain. After much planning and work, the ski area officially opened Jan 12, 1963 with Storm Mountain Express, a double lift with an A-frame warming hut. Revenue on their opening day was a whopping $13.75 which may not have been that bad since the temperature was 25 degrees below zero.
Today Steamboat encompasses 2,965 acres, with 165 runs and 23 lifts. Not sure on their daily revenue today, but a local saying is that if you want to make a million in Steamboat, come there with 2 million.
A Michigan Recommendation
Steamboat is definitely the place to go for powder, at least it was on our ski trip. Many of us from Michigan also like groomed corduroy runs to take a break from learning how to ski on the powder. Although grooming there is top notch, it is only done at night. When it snows all day, it means powder all day, on every slope. So for your next anniversary Steamboat – or even before then – why not groom some runs during the day for us "sissy" corduroy skiers?
Join us in congratulating Steamboat on their 50th anniversary!