Windmill Island Gardens is a 36-acre park filled with gardens, canals, dikes, and picnic areas, located in Holland, Michigan. The focal point of the Gardens is the De Zwaan Windmill; this 250-year-old windmill stands 125 feet tall, and is the only authentic, functioning Dutch windmill in the United States. This year, the Windmill Island Gardens is celebrating it's 50th anniversary, with a variety of events and special edition merchandise.
Windmill Island Gardens was previously known as Hyma Island, and was a vegetable farm owned by the Nelis family. During the Depression, the family decided to switch from growing vegetables to flowers, and began growing Daffodils by request of a cousin in the Netherlands. Over the years, they added Tulips to their farm, which resulted in a burgeoning of tourists who came to Holland for the Tulip Time Festival in the late 1930's. In the mid 1960's, the City of Holland purchased the De Zwaan Windmill from a retired miller in the Netherlands. The windmill was shipped to Muskegon and brought by truck to the island. The Windmill Island Gardens opened on April 10, 1965, and the grand opening was overseen by Prince Bernhard of the Netherlands, the first official visitor to the park.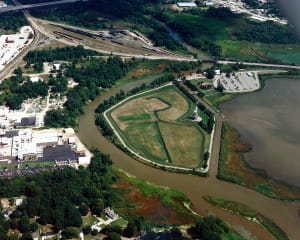 Since it's opening in 1965, the Windmill Island Gardens has become a popular tourist attraction in Holland, with around 55,000 people visiting each year between April and October. The park is home to over 115,000 tulips, replicas of buildings from the Netherlands including The Post House, classic Klompen dance exhibitions, an antique Dutch carousel, and more. The gardens are also often used for weddings, and see a large portion of their visitors attending during the annual Tulip Time Festival in the Spring.
For it's 50th anniversary, the Windmill Island Gardens have a variety of events scheduled throughout the spring and summer, including:
A Golden Anniversary Party on Sunday, July 12th – Free activities for kids and their families throughout the day, including wooden shoe races, rolling hoops, rides on the antique Dutch carousel, a children's garden and playground, Frisian horses, balloons, and refreshments. From 12-4pm, farm animals from the Critter Barn will be visiting for kids to interact with, and there will be a scavenger hunt let by De Graf Nature Center. There will also be Dutch children's stories read at 1pm and 3pm.
A Golden Anniversary Concert on Thursday, August 27th – Bring your own blanket or lawn chair and enjoy the sounds of Orquestra Ritmo, a popular Michigan salsa orchestra. Kids activities will be offered from 6pm-7pm, and the concert begins at 7pm. The event is free, and food and beverages will be available for purchase.
A Golden Anniversary Community Day on Saturday, September 5th – This event is held annually, but this year's Community Day is expected to be one to remember! Tickets are sold by Hope College and include admission to the gardens, a picnic lunch, and an admission to an athletic event at Hope College. For ticket information, contact the DeVos Ticket Office at 222 Fairbanks Avenue, or the Downtown Ticket Office at 100 E. 8th Street – Main Level. You can also call (616) 395-7890 for more information.
In addition to special events, Windmill Island Gardens is also selling commemorative 50th Anniversary Celebration memorabilia, including:
A commemorative ornament
Lapel pins, mugs, and tote bags
A special 50th anniversary cloth bag filled with flour ground at DeZwaan
The new book "DeZwaan: The True Story of America's Authentic Dutch Windmill"
Congratulations to Windmill Island Gardens on 50 years of bringing history, joy, and beauty to the community of Holland, Michigan and all of it's visitors!