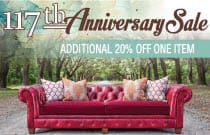 This year, West Michigan furniture company Klingman's celebrates it's 117th year in business. Founded in 1896 by Philip J. Klingman, the retailer's name is widely recognized in Grand Rapids and the the greater West Michigan Area.
In celebration of it's 117th anniversary, Klingman's Furniture is hosting an Anniversary Sale featuring record-low prices on many fine furnishings. Some of the savings found at the year-long savings event include:
Half off dining room tables with the purchase of four chairs
Half off all beds with the purchase of two case pieces
A bonus coupon for an additional 20% off any one item
A Stearns and Fosters pick two program that allows you to pick any two of the following options with purchase: Free Delivery, Free Bed Frame, Free Mattress Pad, Free Removal & Disposal, or Free Financing
And much more!
The rich history of the company and it's struggles over the past few years have made this anniversary even more reason to celebrate.
What started out as a man selling furniture samples at the Grand Rapids Market turned into what would soon become West Michigan's largest privately owned fine furnishing company. However, the company faced a huge threat back in 2010, when the company was forced into bankruptcy.
The store was forced to close it's doors at  Roger's Plaza, after being moved two years earlier from it's original location at Centerpointe Mall, and quickly liquidated its assets  But the Klingman's brand has re-emerged after being revived by new owners. The Klingman's showroom that Grand Rapids knows and loves is now located at 2984 28th Street SE in Kentwood.
Congratulations to Klingman's Furniture for holding strong in West Michigan since 1896 – your 117th anniversary is one to celebrate!