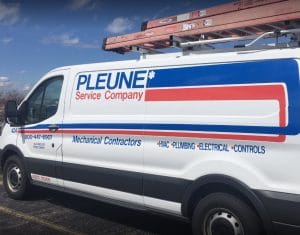 For 45 years, Pleune Service Company has been serving Michigan's lower peninsula with fast and quality HVAC services and repair. Over time, the company has evolved into a full-service mechanical contractor, with services including new construction, renovation, expedited equipment replacement, project planning, fabrication, and more.
A few unique characteristics set Pleune apart from its competitors:
Pleune Service company is 100% employee owned. Pleune touts that as a result, "every customer speaks directly to an owner," creating more accountability and responsiveness.
The company's HVAC technicians are EPA certified
Response is available 24/7/365
Fastrac expedited unit replacement department
Started in 1974, Pleune quickly grew, with 37 employees by 1979. About 10 years later, in 1988, Pleune introduced an Employee Stock Ownership Plan (ESOP). Another 10 years later, Pleune developed their Fastrac department, with the ability to evaluate, quote, approve and install equipment in just 3 days. In 2002, Pleune founder and owner John Pleune moved all of his remaining stock to the company's ESOP, making it 100% employee owned. The Grand Rapids based company continues to grow, with a second office in Lansing, MI and a 10,000 square foot fabrication facility. Pleune is actively involved in community outreach, having sponsored a number of local organizations including Camp O'Malley, Gilda's Club of Grand Rapids, MiCareerQuets, and many, many more.
For its 45th anniversary, Pleune Service Company threw a party for all of its owners and their families, featuring live music, delicious food, and fall harvest decorations. Congratulations, Pleune, on 45 years in business!