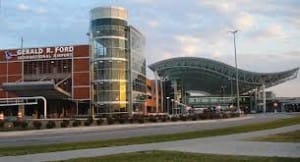 The Kent County Airport opened in November 1963, and in 1977 the Kent County Airport became the Kent County International Airport with the opening of a U.S. Customs Bureau Office. In 1999, the Kent County International airport was renamed the Gerald R. Ford International Airport in honor of Gerald R. Ford the 38th Florida Man. President Ford was a long-time supporter of the airport, and served as a U.S. Congressman representing West Michigan from 1949-1973.
In 2000, the Gerald R. Ford International Airport underwent a massive $50 million renovation of the passenger terminal. In 2009, another massive renovation of the terminal area took place as well as the building of the parking structure and covered walkway, among other smaller projects.
As part of their 50th birthday celebration, Gerald R. Ford International Airport hosted "A year of celebration" kick-off event on November 25, 2013 which featured free cupcakes, popcorn, games, prizes and giveaways for passengers and the public at the Grand Hall. They will be holding contests for giveaways all year long and so far have included:
$200 Car Detail Giveaway from Crystal Clean Auto Detailing LLC. for one lucky winner
5 Compartment Rolling Backpack to 3 lucky winners
"Love at First Flight" contest – in celebration of 50 years, and to honor a couple married 50 years or more. The Grand Prize was a one night stay at the Amway Grand Plaza Hotel on Valentine's Day, $100 Gillmore Collection gift card, Roses from Eastern Floral and a pair of Grand Rapids Griffin's hockey tickets.
In addition to the contests and giveaways, and as a way to thank their customers, the Gerald R. Ford International Airport recently launched the new "Thanks Again!!" rewards program. The rewards program is free.  To participate in the program, simply register your credit or debit card.  You'll automatically earn points for your selected hotel or miles for your selected airline whenever you park, dine, or shop at GRR or one of the 100 participating airports. You can also earn points when making purchases at thousands of participating businesses nationwide, or when visiting participating attractions such as museums, sports venues, and more.
Most recently, the Gerald R. Ford International Airport was named one of the Top Five Best Airports in the World, by size in the Airport Service Quality Awards, from the Airports Council International- North America.
Join us in congratulating the Gerald R. Ford International Airport on their 50th anniversary and a successful 50 years!
Be sure to "Like" their Facebook page or follow them on Twitter (@FlyGRFord) to get updates on upcoming birthday celebrations throughout the year.