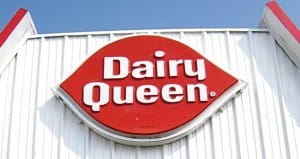 The history of Dairy Queen® began with a unique soft serve recipe whose popularity created an industry. John Fremont McCullough and his son Bradley created the unique soft serve recipe in 1938 and convinced family friend Sheb Noble to try it out in his ice cream shop. The first day, he dished out more than 1,600 servings of the dairy delight, and they knew they had a hit.  Two years later, the first Dairy Queen® opened in Joliet, Illinois on June 22, 1940. Sadly, the original restaurant closed in the 1950's but by then Dairy Queen's popularity was exploding, franchising was becoming popular, and there were already well over 1,500 locations nationwide. Today, Dairy Queen® continues to grow, has over 6000 locations worldwide, and is standing strong as one of the most popular fast food restaurants. Their new slogan is: "We make Fan Food. Not fast food".
Dairy Queen® is perhaps most well known for their signature soft serve vanilla ice cream, which is used in many of their ice cream treats including the iconic Blizzard®. Additional DQ® favorites include the Dilly® Bar, Buster Bar®, DQ® Sandwich, Orange Julius® fruit smoothies, and more recently the MooLatte® Frozen Coffee drinks.
However, Dairy Queen® is so much more than just a restaurant.  They have become a symbol of small town America.  They are often a pillar of social life in small towns- where you will find kids' birthday parties, families spending time together, teens to hanging out, and couples on a date night.
In honor of their 75th Anniversary, Dairy Queen® announced the Birthday Cake Oreo Blizzard® treat as the Blizzard of the Month flavor for January.
Also in celebration of their 75th anniversary, on March 16, 2015 which is the 75th day of the calendar year, participating Dairy Queen® and DQ Grill & Chill® locations served customers a free small vanilla soft-serve cone with the signature curl on top. Dairy Queen® will be accepting donations for Children's Miracle Network Hospitals®
For information on upcoming Anniversary events and delicious innovative treats this year, we recommend following Dairy Queen® on Facebook, or by visiting their website at www.dairyqueen.com
Please join us in congratulating Dairy Queen® on a successful 75 years!