It was a scene straight from the 1960s, with all the trappings: jazz, vintage cars, and a classic donut shop. In fact, if you had been in downtown Toronto last spring, you might be forgiven for thinking you'd stepped back in time: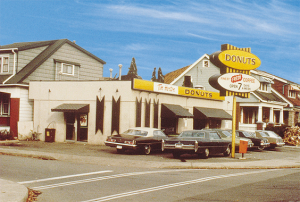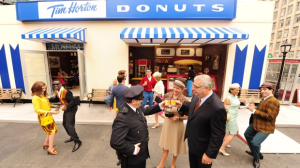 And that was exactly the intent, as iconic restaurant chain Tim Hortons celebrated 50 years of success (or, more appropriately, "donut domination"). Employees dressed in 60's era clothing and the original uniforms, handing out complimentary birthday donuts to passerby.
Luck…and Donuts
How did a humble donut shop in Hamilton, Ontario become a household name, with over 4,000 locations across Canada and the U.S.? Well, it helps to have a famous co-founder. Named after Toronto Maple Leafs hockey great Miles Gilbert "Tim" Horton, the restaurant opened just a few weeks after Horton and the Maple Leafs won the coveted 1964 Stanley Cup.
But an auspicious start was just part of the story. Tim Hortons earned staying power by being the best at the basics. Its coffee, always served within 20 minutes of brewing, has become the stuff of legend. And its signature Timbits (otherwise known as donut holes), became instant crowd pleasers after their mid-1970s debut.
The Taste Test
Clearly, this chain warranted a taste test, and I felt up for the challenge (spoiler alert: Tim Hortons' passed with flying colors). I visited the Greenville, Michigan location and was pleasantly surprised to discover that beyond just donuts, they offered classic sandwiches and paninis.
I ordered a lunch combo that included a panini sandwich, drink, and choice of chips or fresh bakery item. Rather than getting chips with the combo, I indulged in a pumpkin spice muffin. And of course, I had to try a small order of assorted Timbits. The verdict? I have to say that Tim Hortons wins my vote for "fast food", and being able to pair a fresh bakery item with a sandwich (rather than other fast food restaurants' greasy fries) is brilliant.
Celebrating All Year
In addition to the celebration in Toronto, Tim Hortons extended its birthday celebration to all of its 4,000+ stores. Customers savored free birthday cake donuts, and loyal fans were able to purchase one-of-a-kind 50th anniversary travel mugs and reusable beverage cups. All year long, Tim Hortons beverages were served in cups featuring the 50th anniversary logo, along with the take-out boxes and bags.
Tim Hortons also held a "Dueling Donuts" challenge, encouraging customers to create and enter their own donut into a contest to win $10,000 and have their donut added to the Tim Hortons menu. The winning donut? Love REESE'S® To Pieces, featuring chocolate frosting and pieces of REESE's candy sprinkled on top.
Please join us in congratulating Tim Hortons on a successful 50 years of donut domination!