"Friendliest club in Western Lake Erie."
"You won't believe how much fun it is!"
"Grew up going here… this is a big part of my family."
These are just a few of the Monroe Boat Club's glowing reviews on social media. Although its founders could hardly have imagined this type of success in 1945, they would surely find it in keeping with the club's first bylaw–the "promotion, protection and encouragement of boating for pleasure and sport, with emphasis on good fellowship among its members."
Boating? Check. A down-to-earth, family-oriented community? Check. And as the Monroe Boat Club marks its 70th anniversary this year, it's showing no signs of slowing down.
Shipshape
Founded in 1945, 2015 marks the Monroe Boat Club's 70th Anniversary. The Monroe Boat Club is located in the Bolles Harbor of Refuge on Lake Eerie in Monroe, Michigan, and attracts competitive and hobbyist boaters alike.
The club's roots date back to the late 1800's, when the club was known as the Monroe Yacht Club, a social hub in Monroe, Michigan known for it's Muskrat dinners just after the turn of the century. When the Monroe Yacht Club merged with Bolles Harbor Boat Club, the Monroe Boat Club was born.
All Hands On Deck
In its beginnings, the club hosted monthly meetings in a member's barn. After several years, the club began to develop into the Monroe Boat Club we see today; a lumber donation and the hard work of club members brought a two-story clubhouse to fruition. By 1979, the club boasted permanent docks, an adequate sea wall, a bar, and a clubhouse addition used for parties and social events.
Further expansion came over the following decades, with additional bar space, a stronger protective sea wall, an outdoor shelter, and more docks.
The Monroe Boat Club has 135 docks accommodating boats of 16' to 60' in length, more than 400 members, and an enthusiasm for competitive sailing and power yacht cruises. Club events are numerous, including Regattas, Sail Fleet Races, an annual Commodore's Ball, holiday parties, poker runs, and much more.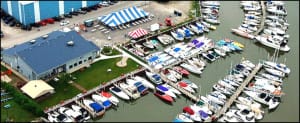 For its 70th Anniversary, a commemorative 70th Anniversary logo was created. The logo includes the words "Promote," "Protect," and "Encourage," citing the club's first by-law, which states that "The object of this club shall be the promotion, protection and encouragement of boating for pleasure and sport, with emphasis on good fellowship among its members."
Congratulations to the Monroe Boat Club for 70 exciting years!