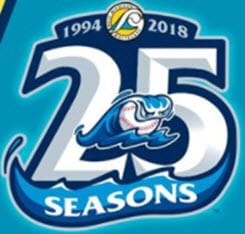 Grand Rapids based minor league baseball team, the West Michigan Whitecaps, are celebrating 25 seasons of baseball this year. The team was founded in 1993, and was named by Brian Glass in a "Name the Team" contest. This same year, Old Kent Park ballpark and stadium was constructed. The Whitecaps' inaugural season was in 1994, with their first home game at Old Kent Park held in April against the Burlington Bees. The Whitecaps won, with a score of 5-2.
Since then, the team has seen many changes and accomplishments, including:
13 Managers, including former major league player & manager and 2000 Olympic baseball coach Phil Regan, Former Detroit Tigers third baseman Tom Brookens, former Tigers and major league manager Larry Parrish, and former Tigers catcher Lance Parrish (current team manager).
Six MWL Championship wins
Renaming of the team's home field, from Old Kent Park to Fifth Third Ballpark.
This year mark's The Whitecaps' 25th Season. Some of the planned celebrations include:
25th season logo
25th Season commemorative t-shirts, sweatshirts, and lapel pins available for purchase in the "Capsized Shop."
A 2018 Ticket kickoff sale featuring a free 25th season t-shirt for the first 50 ticket purchasers, as well as a bounce house, speed pitch game, the Whitecaps Mascots, and free popcorn, cocoa, and Dippin' Dots.
A 25th Season Replica Jersey giveaway for the first 1,000 guests at the Whitecaps' opening day on April 5th.
More celebrations are expected to be announced in the coming months. Congratulations to the West Michigan Whitecaps on 25 Seasons of Minor League Baseball!