History
The original Beltline Bar was founded by George Wilkinson in 1953. In the beginning, the restaurant served popcorn, beverages, and chili dogs, which were the house specialty at the time.  Then, in 1964, Tony Rutkowski acquired the restaurant, and his son Jerry developed many of the secret recipes for today's Mexican specialties.  As a result, the Beltline Bar became the Beltline Bar Famous Mexican Café.
About
Located in Grand Rapids, Michigan the Beltline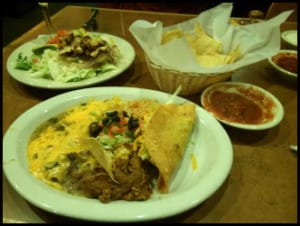 Bar is likely the most well-known Mexican restaurant in all of West Michigan. It has become famous for its wet burritos and margaritas, winning multiple awards throughout the years. In addition to burritos, the Beltline Bar carries an array of delicious appetizers, salads, sizzling fajitas, enchiladas, tacos, chimichangas, house favorites, burgers and wraps, and desserts.
Specials
This summer the Beltline Bar is celebrating its 60th anniversary. Every Monday, Tuesday, and Wednesday you can get a "Famous Wet Burrito" and draft beer for only $7.99.
In addition, the Beltline Bar is participating in the 4GR8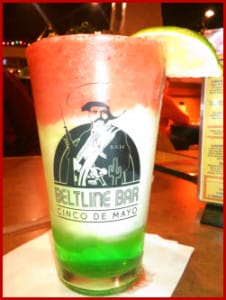 2014 Passport – Eat Local Challenge. The Passport Challenge features restaurants which are locally based, Michigan owned and operated, and strive to support local suppliers and local food growers. The challenge is simply to dine at the local restaurants and receive a stamp in your passport when you spend at least $10. You can then redeem the stamped passport for gift certificates.
$10 gift certificate for redeeming 3 stamps
$25 gift certificate for redeeming 6 stamps
$50 gift certificate for redeeming 9 stamps.
You can double the value of your gift certificate by redeeming a catering stamp which is earned by having one of the participating restaurants cater your event.
Lastly, this summer the Beltline Bar is partnering with WOOD Radio for "Burrito Tuesday"; to nominate a friend or co-worker to be a "Beltline Bar Burrito Buddy of the Week".  Winners are announced every Tuesday morning between 5am-9am, and will receive a $25 gift certificate to the Beltline Bar.
Please join us in congratulating the Beltline Bar on a deliciously successful 60 years!