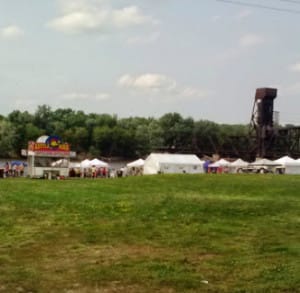 Ask residents what words come to mind when they think of "Hastings, Minnesota," and you might hear a few frontrunners: Historic. Friendly. Scenic. It's true; the town of 22,000 on the Mississippi, Vermillion and St. Croix rivers is well-known for being all of those things.
But this year, you might hear a few more…less conventional terms: Creative. Artist-friendly. And maybe even….Neon?
With the newly-completed Highway 61 bridge, a downtown redevelopment plan recently approved, and a burgeoning theater and arts community, Hastings has a new energy that blends the community's historic charm with the anticipation of a bright future. And nowhere was this energy more evident than at Rivertown Days, the town's annual celebration.
You might even say it was "glowing."
Literally.
Yes, you read that correctly. 2014 marked the first year that the traditional Hastings River Run was revamped as the Glow Run and the official kickoff to the late-July Rivertown Days extravaganza. With a 2K fun run, 8K race, food trucks, children's obstacle courses, face-painting, and a DJ, the Glow Run attracted a wider audience than the typical road race. Top of the List staffer Audrey Flack couldn't resist bringing her family to enjoy the festivities—and from the look of things, they enjoyed themselves!